Bouncer Balance Soft
Bouncer Balance Soft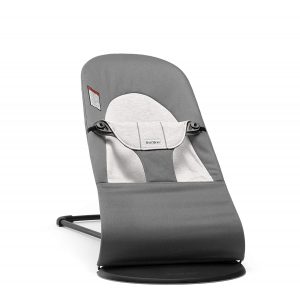 Bouncer Balance Soft
Ergonomic baby bouncer – proper head and back support
Fun and natural rocking that stimulates your baby's development
From 8 lbs/21 in (3.5 kg/53 cm) to 29 lbs (13 kg) (approx. for newborns and toddlers up to the age of 2)
Three different height positions and one transport mode
The fabric seat is easy to remove and machine washable
Provides fun and natural bouncing
Proper back and head support
Bouncer and chair in one
Suitable for both rest and play
Developed with Pediatricians
Meet the Bouncer Balance Soft
An ergonomic bouncer with a soft and snug design that is suitable right from day one. Our baby bouncer runs on fun alone – no batteries required! Your child's own movements will bounce the chair. Once your child is able to stand and sit on their own, the Bouncer Balance Soft can be used as a chair up until the age of two.
Naturally helps develop balance and motor skills
No batteries are needed for this bouncer as it is your baby who makes it rock. Your baby quickly learns how to make the bouncer rock by his or her own movements, while developing his or her balance and motor skills in a completely natural way. Younger babies can be gently calmed by carefully bouncing the chair with your hands or feet.
Proper head and back support
The ergonomic design gives your newborn baby proper head, back and neck support. The fitted fabric seat of the baby bouncer molds itself to your baby's body and evenly distributes the weight. This gives your baby good support, which is particularly important for young babies whose muscles are not yet fully developed.
From newborn to 2 years
The Bouncer Balance Soft is a baby bouncer and chair in one, so it can be used longer than most baby bouncers. You can use it as a baby bouncer from birth until your child has learned to sit upright. When your child has learned to walk and sit down unaided, you can reverse the fabric to create a comfy chair.
Four positions – suitable for both rest and play
The bouncer has three positions — play, rest, and transport mode. It easily and quietly adjusts from the highest play position to the lower rest position. When the bouncer is not in use, it folds completely flat for storing or transporting.
Soft design for an extra cozy feeling
The Bouncer Balance Soft is characterized by round forms and a supportive design that creates the feeling of a snug nest for your newborn baby. The safety harness, with its soft padding, is comfortable for the baby to hold on to.
Product description
Style:Cotton/Jersey | Color:Dark Gray/Gray
Bouncer Balance Soft is an ergonomic baby bouncer where your baby can play or rest beside you while you take a shower, prepare a meal or do other household tasks. Your baby's own movements set the baby bouncer gently rocking, which is great fun for your baby. The fitted fabric seat is comfortable, and gives good support to your baby's back, neck and head. You can use the baby bouncer for your child from birth up to the age of two. Bouncer Balance Soft is a beloved classic in a soft and modern design.
Bouncer (max 20 lbs/9 kg):
Always use the restraint system. Make sure that both buttons are locked. You can adjust between two positions. Stop using the product as a bouncer once your child can sit up without help.
Chair (max 29 lbs/13 kg):
Use as chair when your child can walk and sit on his or her own. In order to convert the product into a chair, all you have to do is turn the fabric around.
Transport Dimensions: 4.5 x 35 x 15.5 in/11 x 89 x 39 cm
Washing Instructions:
Machine wash warm (40°C). Wash separately. Use an eco-friendly, mild and bleach-free detergent. Do not tumble dry.
Tested and Safe:
All materials meet the criteria for OEKO-TEX Standard 100, Class 1 for baby products. This means that they are kind to your baby's skin and safe to taste.
Bouncer Balance Soft complies with the US ASTM F2167 and the EN12790:2009 safety standard.
Technical Details
| | |
| --- | --- |
| Item Weight | 5 pounds |
| Product Dimensions | 31 x 15.5 x 22 inches |
| UPC | 874594006737 781264620059 |
| Item model number | 005084US |
| Target gender | Unisex |
| Minimum weight recommendation | 8 Pounds |
| Maximum weight recommendation | 28 Pounds |
| material_composition | 100% Polyester and Cotton |
| Additional product features | Features folds for easy transport and storage, seat pad, sounds and songs and multi-directional seat positions |
| Style | Cotton/Jersey |
| Power Source | Baby powered |
| Batteries required | No |